We don't claim to know more than you - we just know different & interesting stuff!
We find that a creative session working closely with your own marketing department can open your eyes to new tools, new ways of working and give you the shortcuts needed to increase the productivity of your workforce - saving you a fortune in the long-run and more importantly increasing your orders and new business opportunities.
Why not give up 20 minutes of your time for a discovery session.
We are always happy to chat and give some FREE advice.
Whether you want to ask about the latest techniques in marketing automation, simple techniques to increase the conversions on your eCommerce site, how to grow your social media following, how to be No.1 on Google or want to know how to overcome your competitors... we can tell you and it's FREE.
Just a few reasons why it's good to work with an agency like us.

EXPERIENCE AND EXPERTISE

"But I employ a digital marketing team, why should I need any help from an agency?" – As digital marketing is a constantly changing industry and an agency will have a wealth of experience and talent and will be up to date with current industry practice and innovations.

No-body knows everything – and collaborating with an outside agency often draws out creativity and ideas from your own team. Without the working practices an agency can help you implement your team may not reach their full potential.
Certain business practices can be counter intuitive – working with an experienced agency will provide more time for your staff to be creative and drive your business forwards.
Scroll down for more...
FLEXIBILITY OF OUR AGENCY
THE COST AND RETURN ON INVESTMENT

The ways you spend your marketing budget may not be as efficient as they could be, digital marketing can be very cost effective if a joined up strategy is employed – ensuring your traditional marketing is fully integrated with digital is something all agencies should be pushing on ther clients. The costs of maintaining a website, a blog and a social media can be fairly minimal. Creating content can involve a bit more time and money but there are no printing or advertising costs.

Measuring your return on investment is truly where agencies shine and add value. Nowadays your agency should be able to pinpoint every pound spent and each order or enquiry it generated – we find that many internal marketing departments are let down by their reporting and skill in being able to properly track campaign data.
OUTSTANDING RESOURCES

With a flexible approach to supporting customers we as a digital agency will help you with everything from keyword lists and search engine optimisation (SEO) to the timing of blog posts and social media updates. We often find that managers need help to convince the decision makers in their business that digital marketing is worth the investment, we can help you to do that. On top of being able to reach into our pool of talent and resources we are able to offer in house training to your staff meaning in the long run your business will need to rely less on agency support.
CAMPAIGN FLEXIBILITY

As a small agency Limitless Digital is able to be completely flexible, we find the best basis for working with clients is an agreed number of contracted hours, some of which are assigned to specific tasks and a few for bespoke and ad-hoc tasks designed to support your campaigns, training, strategy and reporting to management.
RESULTS THAT ARE MEASURABLE AND A FUTURE STRATEGY

An agency will be able to give you solid proof and demonstrate exactly where your money and efforts are going, for example using tools such as Teamwork your billable hours can be tracked and tasks assigned / monitored. There are a host of tools with the ability to track and measure almost any kind of marketing activity. Data can be extracted from all types of sources and campaign activity, e.g. who opened your email and when, which links are driving traffic to your website and what are customers looking at when they get there, additionally which landing pages are performing and which subjects' customers are interacting with. By measuring the performance of your campaigns an agency can deliver better data and be in a position to help your teams make better decisions moving forwards.
SETTING PRIORITIES AND DELIVERING WORK

Digital marketing isn't always the greatest priority within any business – even with an in house team other activity within the business can end up taking priority over your carefully planned out strategy. Working with an agency will mean that when tasks are assigned your staff will be in the loop and often tasked themselves with responding or taking actions, everything which will then be tracked and reported back on – this leads to smarter ways of working and employees feel they are more effectively managed, agencies therefore help you manage your staff's workload indirectly and can motivate departments to become better and feel they are contributing more to the overall success of your business.
How Limitless can help you
Social media management and marketing for yorkshire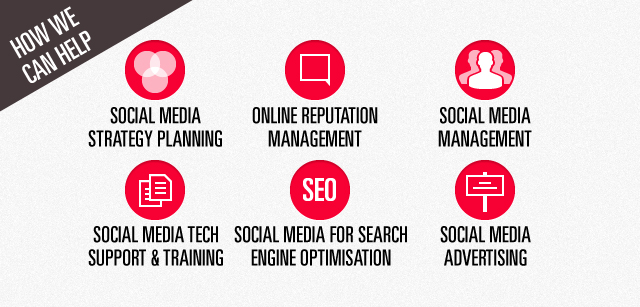 BOOK A FREE 20 MINUTE DISCOVERY CALL
TOOLS AND TECHNOLOGY

Let's face facts, in an ever changing world such as digital marketing tools are evolving at such a pace that it's NOT easy for an in-house marketing team to stay on top of the latest technology and methods of attracting/staying in touch with customers. When you employ a digital marketing agency you are not only getting access to the skills of the staff, but you will be benefiting from up to date technology and a powerful set of tools that incorporate the latest in Customer Relationship Management (CRM), marketing automation, lead intelligence and more.

Agencies will normally buy into tools that cost tens of thousands of pounds – your business then can benefit from access at a far reduced cost.
NEW PERSPECTIVE AND INTELLIGENCE

Getting outsiders view on your customers and business practices from experienced professionals that have worked marketing many different business offerings allows ideas to flow from one industry to another. A digital marketing agency has experience of customer behaviours generally and may have, or can acquire intelligence within your industry or on your competitors.
Working with an agency may just give you a fresh perspective and a spark of a new idea that can lead to campaigns and whole new business opportunities.